When the home you live in simply doesn't meet your family's needs, you have two options to make a change: move or remodel. Moving may seem a less nerve-wracking choice at first, but a whole house remodel is actually less stressful than a move, and has its upside:
It's rare to find a new home that will also meet all your needs. A whole house remodel allows you to customize the home you already know and love
You won't have to leave a familiar neighborhood
It can be a much more efficient use of your financial resources
We don't mean to imply that a whole house remodel is entirely stress-free, but we do believe it can be an excellent solution to your less-than-perfect home predicament. A whole house gut and remodel may not be for the faint-of-heart, but at Foley we do our best to help relieve any fears you may have about diving in. We go into a much more detailed breakdown on our website, but here are 5 easy whole house remodel steps to help you understand the process.
Budget & Financing
Without a realistic budget that accurately reflects what you hope to accomplish, it isn't possible to help you prioritize your needs or help you allocate your financial resources in a way that makes goals attainable. Hand-in-hand with your budget is the financing. Remodeling is a specialty field in the lending industry, and we help you identify lenders who are experienced in financing whole house remodels.
Project Scope and Scheduling
The scope of your project has a direct tie to your budget and will dictate the amount of work that can be done and the timeframe in which it can be completed. As a rule of thumb, it's best to do a whole house gut and remodel all at once, as it is more cost effective and time saving. This is also the time to think about finishing touches such as plumbing, lighting, flooring and cabinets, so that your budget takes these personal touches into consideration.
There are no quick answers to as to how much an involved project will cost, or how long it will take, but a good designer and builder should be able to come up with plans and specifications that are within your budget and a schedule that is well thought out and efficient.
Home Analysis and New Plans
A walkthrough of your existing home will give your design-builder a good feel for what can be done, but until it's put in our CAD program as "as-built," we are limited in our ability to come up with a plan that makes your remodel feasible. From there, we can start playing with various overlays to show you possible new layouts. From there, initial plans are then computer generated.
Design Philosophy & Green Building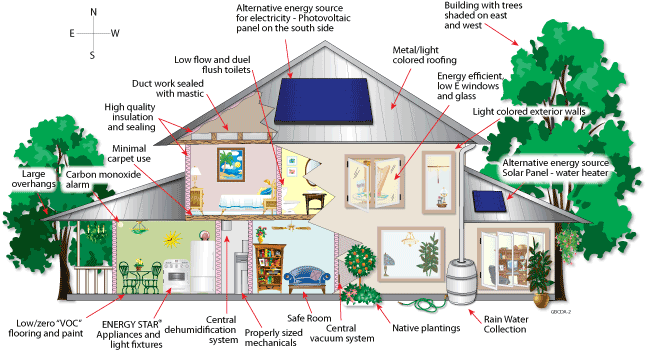 If you're interested in taking your home green, doing it at the time of a whole house remodel makes great sense. How much can be converted depends on your existing structure, but we urge our clients to look into all their green options, including the tax credits available. Our design philosophy is simple: what would we do if this were our own home? Then through honest communication with the client, we reach an agreement on what best serves their needs and budget.
Contracts and Warranties
With over 30 years of experience in the business, we've come up with what we think is a contract that is clear, concise and fair to all parties, but we encourage our clients to have a third party review for their own peace of mind. Each contract we enter into is specifically drafted for the project at hand. We also provide our clients with an up-front warranty that is part of the contract, so there are no surprises at completion time.
We hope these whole house remodel steps show that, with the experience and skills of a good professional, your whole house remodel can be an exciting adventure with a highly satisfactory outcome. Take a look at this example of a full house renovation we did of a 1970s 5-level home and then contact us so we can further discuss your own remodel needs.